Son las hazañas de Michael Jordan los que lo convirtieron en una leyenda del deporte. Momentos que enmarcaron una carrera irrepetible y digna de recordar muchos años después del retiro del escolta de los Chicago Bulls. Una de ellas sucedió hace 35 años, cuando Dios y Jordan se utilizaron dentro de la misma oración por primera ocasión.
Era la noche 20 de abril de 1986, una jornada común y corriente de la postemporada de la NBA. Los poderosos Boston Celtics se iban a enfrentar a los Bulls, un conjunto que todos los especialistas estaban conscientes de que no estaban listos para competir por el campeonato, pero que tenían a un jugador especial y posiblemente el mejor de la liga para ese momento: Michael Jordan.
La serie arrancó y desde temprano los Celtics mostraron que eran superiores a su rival. Larry Bird, Kevin McHale, Danny Ainge, Dennis Johnson, Robert Parish y Bill Walton tenían un grupo sólido que no se podía contener. Sin embargo, para el segundo juego vieron una de las mejores versiones de Jordan en una cancha.
Un joven utilizó todos los recursos que poseía contra veteranos que buscaban un nuevo campeonato. Jordan anotó 63 puntos, lo que estableció un récord de anotación en playoffs y rompió la marca anterior en manos de Elgin Baylor.
Por desgracia, todo lo que Jordan anotó, al final poco importó. Sus octavos sembrados Bulls no conquistaron, ya que cayeron ante los primeros clasificados Celtics en el Boston Garden, 135-131, en dos prórrogas el 20 de abril de 1986. «Nunca lo hubiera llamado el mejor jugador que haya visto en toda mi vida si no hubiera sido en serio», dijo Bird al Boston Globe. «Es solo Dios disfrazado de Michael Jordan».
¿Cómo fue la actuación digna de un "dios"?
Son palabras mayores las que declaró Larry Bird luego del encuentro. Incluso las mantiene actualmente cuando cada aniversario de la hazaña le preguntaron sobre el tema. ¿Cuál fue la actuación de Michael Jordan para ser comparado con Dios?
Principalmente, un esfuerzo titánico. El encuentro necesitó dos tiempos extras, en los que Jordan estuvo en cancha por 53 minutos. Anotó con volcadas, bandejas, tiros de media distancia, tiros libres, pero ningún triple intentado. También defendió: bajó cinco rebotes y robó tres balones. Además, repartió seis asistencias a sus compañeros.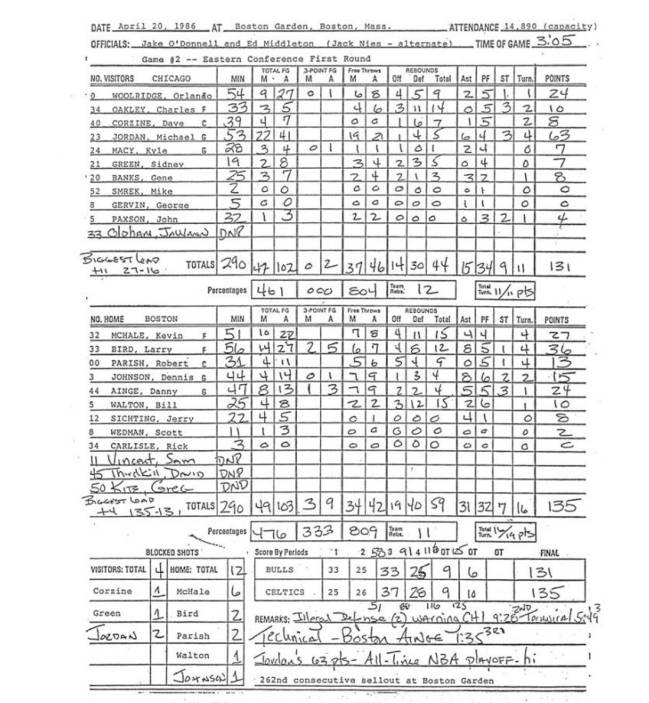 Sin embargo, toda la atención fue su producción ofensiva. Quebró el récord de anotación de Baylor en los playoffs. El exLaker estableció la marca con 61 puntos contra los Celtics en la serie de campeonato el 14 de abril de 1962, pero Jordan con una actuación de una "deidad" le colocó un nuevo nombre a la marca del juego con más puntos en postemporada.
Jordan terminó 19 de 21 desde la línea de tiros libres. Su desglose de puntuación fue de 17 puntos en el primer cuarto, seis en el segundo, 13 en el tercero, 18 en el cuarto, cinco en el primer tiempo extra y cuatro en el segundo. «No me preocupan los puntos», dijo Jordan al diario The Washington Post. «Devolvería todos los puntos si pudiéramos ganar».
Un desconocido terminó como el héroe
Para el segundo tiempo extra, todavía no había un ganador claro. Michael Jordan, en modo Dios, le dio la ventaja a los Bulls, pero los Celtics tenían la pelota para conseguir la victoria. Por eso los Bulls armaron una defensa para evitar que Bird o Kevin McHale (27 puntos y 15 rebotes) fueran el héroe, dejando a Jerry Sichting descubierto.
Sichting, un base de 1.85 metros que estaba jugando solo en el segundo juego de postemporada de su carrera de seis años, recibió un pase de McHale desde adentro hacia afuera y anotó. Boston lideraba 133-131 con 57 segundos por jugarse.
«La jugada fue diseñada para que fuera con Kevin McHale», dijo Sichting, quien fue obtenido en un cambio con los Indiana Pacers en la temporada baja, a The New York Times. "Pero tenía doble marcación, y me lo dio. Estaba completamente abierto en la parte superior de la llave, y la tiré».
Pero ni siquiera por Sichting anotó la canasta del triunfo, el tema cuando terminó el juego fue Michael Jordan, o, según Larry Bird, "Dios que se disfrazó de los Bulls". «Es el jugador más emocionante y asombroso del juego», dijo Bird al Post. «No pensé que alguien fuera capaz de hacer lo que Michael nos hizo en los últimos dos juegos».