Todas sus volcadas, triples, defensas y asistencias de LeBron James en la cancha, lo adoptó de ver a grandes figuras de la NBA como Michael Jordan, Kobe Bryant y Julius Irving. También de Magic Johnson, quien se convirtió en el ejemplar perfecto para copiar como basquetbolista.
Pero para su faceta como padre, le tocó improvisar. Los abrazos, consejos y mimos que tiene con sus hijos, no los observó de un modelo paternal. Nunca lo tuvo, por lo que sus instintos y recuerdos de lo que quería tener de niño, es su libro para ser papá.
Porque la infancia de LeBron James es diametralmente opuesta a su actualidad como estrella del deporte. Su madre, Gloria, tenía 16 años cuando él nació y sin ninguna solidez económica para garantizar un entorno propicio para una crianza. Mientras que su padre, Anthony McClelland, se desentendió apenas enterarse del embarazo. Mientras que Eddie Jackson, potencial padrastro del joven LeBron, terminó en prisión por tráfico de cocaína.
"Yo no tuve un padre, así que siempre decía, 'cuando tenga un hijo, no sólo va a llevar mi nombre, sino que voy a hacer todo lo que ese hombre no hizo conmigo'. Quería que mis hijos no vivieran lo que yo viví. Lo único que puedo hacer ahora es darles un modelo, un referente de superación para que ellos creen su propio camino", relató en el programa de HBO, The Shop. "Sabes una cosa, no te conozco, no tengo ni idea de quién eres, pero tú eres parte de la razón que ha hecho que sea quien soy hoy en día".
Bajo una pobreza extrema y malas decisiones de su madre, James vivió múltiples mudanzas. Cambió de habitación un sinfín de veces. Tanto, que terminó con compañeros de clase que se ofrecieron a ayudarlo, lo más cercano a una familia normal que tuvo en su adolescencia.
"Mi dolor fue mi motivación. La razón por la que soy quien soy hoy es porque pasé por esos momentos difíciles de pequeño", aseguró James. "Pasé muchas noches de miedo, oyendo sirenas de policías y disparos. Cosas que no quieres que viva ningún niño".
En la actualidad, el alero de los Lakers de Los Ángeles es un padre ejemplar. Es imagen de Coca-Cola, Kia, Beats y la principal cara de Nike, patrocinantes que le permitieron embolsarse más de 800 millones de dólares.
Ahora, cuando el dinero ya no es un problema, es el guía de Bronny, quien se convirtió en uno de los prospectos del baloncesto a sus 15 años de edad. Mientras que a Bryce Maximus lo empieza a involucrar en el deporte y a Zhuri la convirtió en la princesa de su reinado.
"Estoy en una posición que permite crecer a la gente que me rodea, eso quizá no hubiera sido posible si hubiera tenido padre y madre, dos hermanas, un perro y una casa con jardín ¿te das cuenta? Gracias por todo. Mira en lo que me convertí", continuó James en The Shop.
LeBron James y Bronny: padre e hijo juntos en la NBA
¿Cuándo será el retiro de LeBron James? Es una de las preguntas que se empieza a colocar sobre las mesas de debate en los programas especializados de la NBA. Próximo a cumplir 35 años de edad y, a pesar de mantener optimas sus condiciones, pareciera estar cerca el fin de su reinado.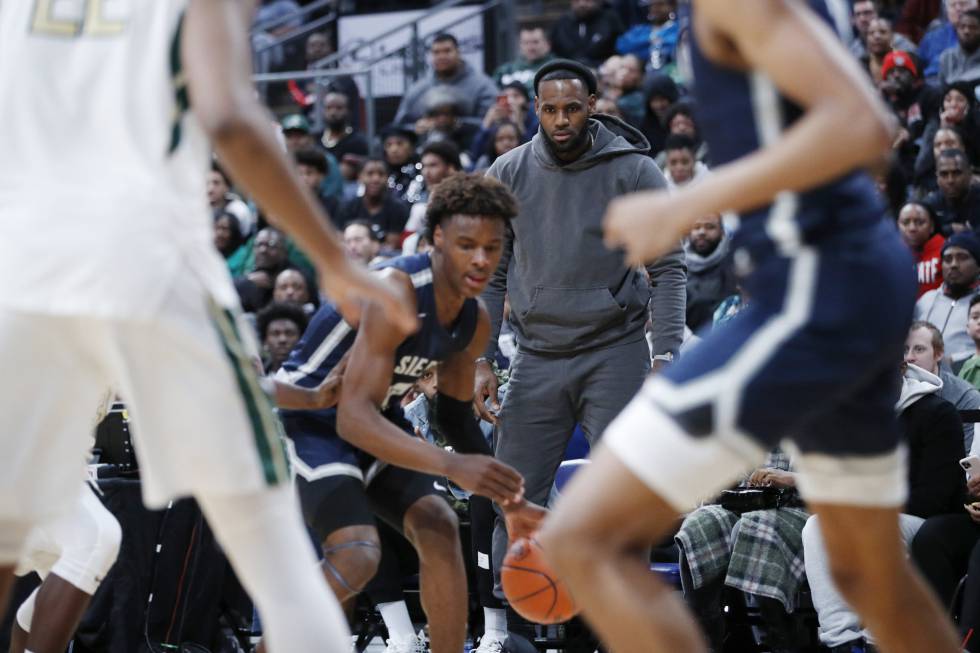 Su contrato con los Lakers vence en 2022, pero en la mente del "Rey", ese no será el fin. Su objetivo es jugar junto a Bronny, por lo se mantendrá activo hasta que su hijo mayor sea seleccionado por un equipo. Tras jugar con él, pensará en el retiro.
"Si continúa por este camino, es posible que llegue (a la NBA) en cinco o seis años. Sería un momento increíble. No solo para mí, sino para mi familia. Ya veremos. Evidentemente la prioridad es cuidar mi cuerpo y seguiré haciéndolo. Pero aún más importante es cuidar la cabeza. Si la cabeza no está bien, el cuerpo se va a venir abajo por el camino".